2010 News and Editorial Archive


Here's where we keep our old news and editorials after it starts taking up too much room on the main news page. Just in case there was something you forgot, or if we did (or didn't) get an editorial prediction or comment right...monthly forecasts/editorials listed first, or

click here for old news stories

:



December editorial: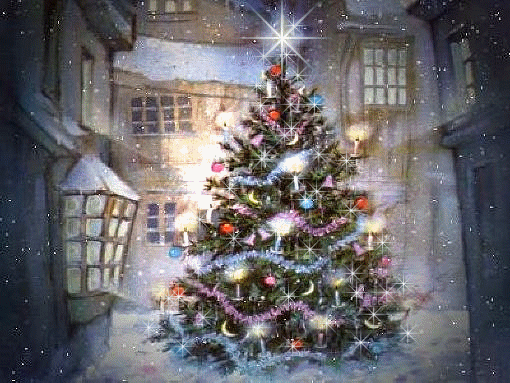 ...silly season, that is. This set of holidays comes framed by a lunar eclipse (December 21, at 29 Gemini-Sagittarius) and a solar eclipse (January 4, at 13 Capricorn) on either side, making the usually-crazy period more so than ever, as a lunar bowl sky pumps up the emotions and ordinary control becomes more difficult than ever to exercise (see December Skies for more). And Mercury is retrograde, to boot. What to do about it? Not much, except to let the feathers fly and avoid getting too attached to the pillow fight that's causing it. However dramatic, all is not as it seems, and with the lunar eclipse at the very last degree of Sagittarius, all is about to change anyway, so don't tie yourself to the moment, just live in it.
Further than that one need not go. Celebrations are in order, regardless of temporary emergencies, and tending to inner progress is the watchword, even as the party surges from room to room. Trim the tree, if you have one, or simply find some to communicate with on the hoof. You'll find more sanity in the vegetable kingdom than in your closer evolutionary cousins, so this year let that be both lesson and comfort, for one and all…
November editorial: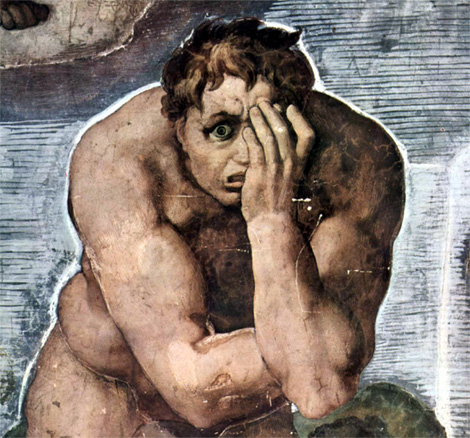 They say you shouldn't buy anything important when Venus is retrograde, so it's really too bad that American elections happen so often with that important planet in arrears. It's a sure sign of buyer's remorse to come, as well as the initial expression of dissatisfaction with what you already have.
You'd think it would be rare, as Venus is retro for just six weeks once every eighteen months. By rights, it should only happen on one in twelve elections. But one out of every four early November elections has had the affliction over the past 100 years. That's because it's not a random occurrence, but follows a very slowly moving cycle (q.v.) which we've been locked into for a long, regularly regretful time. Put that together with Jupiter and Uranus retro as well, and the results reflect neither progress (Jupiter), nor illumination (Uranus), nor desirability (Venus). What can be expected is a loud stalemate in a country with an already natally-afflicted Mars (square Neptune) that is now retrograde by progression, and which is already overwhelmed by too much Neptune (reread our article). All the downsides of Neptune – fear, uncertainty, confusion, delusion, weakness, dissension – are rampant at a time when their opposites (courage, certainty, clarity, insight, strength, unity) are what the world dearly needs. Perhaps they will be coming from elsewhere around the globe, but the world's greatest superpower seems short on its most-touted leadership qualities for the moment, regardless of internal party affiliation.
Some of the celestial afflictions of this election day are on the mend later this month – Jupiter and Venus go direct, and Uranus quickly follows – but what's done is done. The month's skies feature a bowl (very insular) for the first half and a lunar bucket (fractious and unsteady) the second, with nothing in earth but Pluto and occasionally the Moon. Not a lot of stability to hang on to, but plenty of time for regrets on all sides…and as for that cycle of way too many elections with Venus retrograde (every fourth set, mid-terms only), it doesn't phase out until 2050…
October editorial: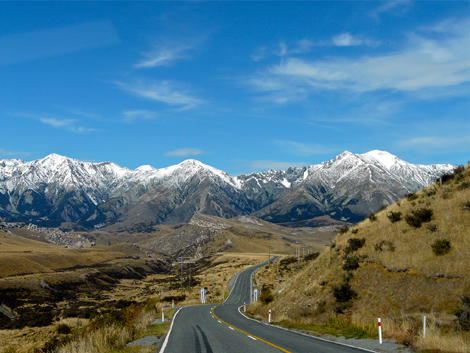 October finally puts us completely past the endless cardinal T-cross/grand cross that had the world so utterly tied up this summer. And if September was the release period, this month sees a long and winding road opening up ahead in regular patterns that will be with us for a decade. The planets make a bowl between Saturn and Jupiter/Uranus, except for the Moon as a bucket handle in opposition for half the month, and that will continue until spring, when the Sun and inner planets break out of the celestial nest, and then return again in the fall. That pattern will alternate until Jupiter becomes the bucket handle for a few years starting in 2012, and then back to this bowl/bucket pattern again until everything squeezes into an incredibly small 106-degree bundle in January 2021.
What's it all mean? It depicts a tendency to turn inward, in insular self-sufficiency, alternating with emotionally-driven periods quite in opposition, painting a regularly shifting trail whose direction is the average of its bends, when all is said and done. It may be a little unsettling at first, but we'll all get used to it, because it's going to be around for quite a while to come.
Meanwhile, short-term, Venus continues to run with Mars early this month, a sexy combo in Scorpio, but as Venus goes retro only a week in, mind-changing and shifting desires are the actual result, and with no fire signs occupied, passion may not peak but only rearrange itself as Mars pulls totally away by month's end.
For the moment, it's still going to seem like a burst of freedom and relief from earlier chains, but as it's the new normal, it will develop its own burden of repetition and familiarity soon enough…
September editorial: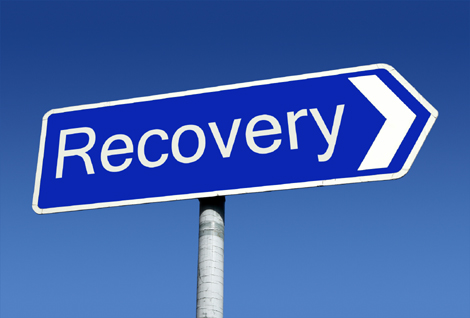 Are better times just ahead, or is this only September blue-sky??
Last month and its cardinal grand crosses lived up to their dire promises, from fire and flood in Europe and Asia to the occasional and unlikely fireworks orgasm, but September marks the end of this multi-month lockup and the beginning of the next step. Certainly, the worst is over, as Jupiter and Uranus back off into Pisces and Saturn flees into mid-Libra, breaking up the two-year Saturn-Uranus opposition. But is this recovery, or just a lot of new directions spiraling madly off to follow their own separate agendas?
Probably a bit of both. The last cardinal grand cross passes on September 3, with Jupiter still hanging into Aries by a thread, but after that the skies are totally devoid of fire until the end of October, except for the occasional lunar transit, so inspiration is hard to come by, though there's a lot of enthusiastic planning going on as half the month (middle two weeks) sees Mercury leading a locomotive chart, alternating with an emotional Moon opposing the rest of the sky (first and last weeks). Lots of prospects abound, some of which arouse, but few of which truly motivate.
Still, the possibility of forward motion without the recent gridlock is such a relief that you don't need a barn-burner to get fired up and ready to go. Just a chance at a roll of the dice on even ground is quite sufficient to move everyone to cast lots for the remnants, the torn raiments of the recent celestial crucifixion, the gleanings of the great harvest in the sky that has finally finished and flows on to other pastures…
August editorial: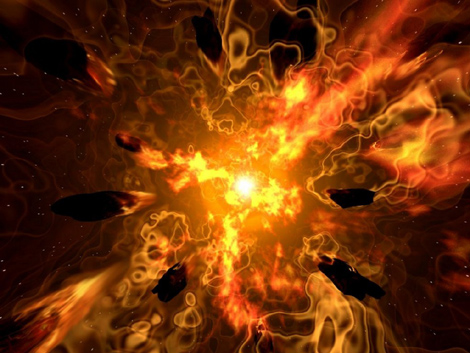 August 6-7 marks the final cardinal grand cross of this year's massive "shootout in the sky" which with Venus and Mars entangled could make for agonizing tension followed by obliterating release, whether it's love or war, sex or death, or a mix of all four. New against old, restriction against expansion, blind force against wild emotion, furious arousal mixed with devouring desire, those are the locked-up planetary watchwords, so mind where you are, who you're with, and what you're doing when that cross ignites the angles, four times that day. It could be a risky formula, but not one to waste, as its likes won't be seen again for some time. Only one more, faint echo of the cross with Mercury retrograde over Labor Day/Bank Holiday weekend will remind us of its passing. Once it's gone, this year's frozen, fist-like planetary phenomenon breaks up for good as Saturn flees to mid-Libra, and Jupiter and Uranus back off into Pisces, not to repeat the encounter.
Play it for what it's worth, a daring dip into the heart of the fire, followed by an opening road with brand-new possibilities released as fall approaches. The final, shattering end to this sky drama will leave lots of pieces to pick up to build new directions, new careers, and new loves in the wake of the physical, emotional, and economic wreckage left behind. It's not been fun so far, but it will feel so good when it stops, maybe even better at the very moment of final resolution, liberation from the unbearably intractable bondage of the sky. A pressure-drop to remember, a naked, open-eyed explosion into the inner and outer void. La petite mort, one hopes, not la mort définitive…
For a full article on the big O and the cardinal cross,
click here…
July editorial:


The Gordian Knot!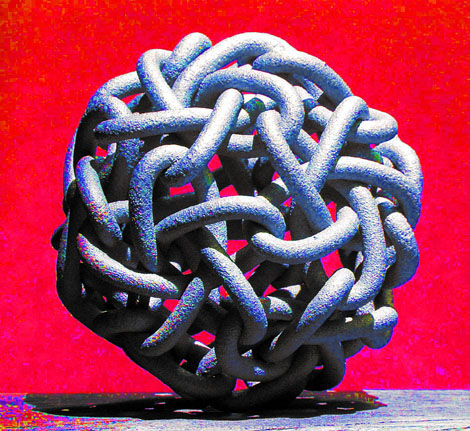 July marks the height of the current T-cross sky battle of Uranus-Jupiter against Saturn, both square Pluto and periodically joined by others to form a cardinal grand cross. It's like the participants are locking themselves ever tighter into an intractable Gordian knot, and the downstairs reality goes along with it. Add to that a solar eclipse on July 11, and you've got a penned-in explosive mixture with a trigger neatly provided. Settling things peacefully this month is not going to be easy.
On top of that, Mars runs to join in by the end of the month, painting the whole background flaming red in contrast to Saturn's grey and steely tones, fueling the mixture for more mischief. Only Venus running up to sweeten that mix by August 7 will allow a possible graceful exit to this final clash of Titans in the sky.
Here below, expect the unexpected, with pieces falling where they may, but to the benefit of those smart enough to pick them up and make use of them while quick enough to not get hit in the first place. It may be that not until things are fully broken can we reassemble the shards into something new and serviceable – and very different. As we mentioned elsewhere, it will be the gleaners below, walking in the wake of these celestial scythe-bearers, who will be the beneficiaries…
June editorial: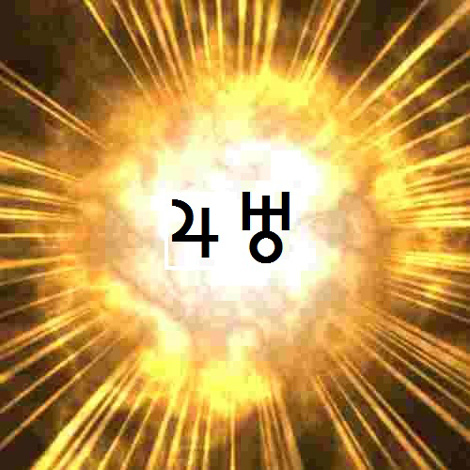 The end of May had everyone feeling they were riding up the surging tube of an erupting volcano, as Uranus burst into Aries. Now as Jupiter joins it we are all out and over the top into the blast zone. Sudden, big, unexpected, far-reaching, ballooning events are grabbing the headlines and reflecting equally on the home front. The world will never be the same again, outside and inside. Underwold eruptions from Iceland to the Gulf of Mexico, all with withering Saturn and deathly Pluto overtones added by the great T-cross with Jupiter and Uranus, are only the scary outside story.
And, as if that weren't enough, we're headed into eclipse season again, starting with a lunar eclipse June 26 exactly filling out the T into a cardinal grand cross along the Capricorn/Cancer Pluto axis. "Not with a whimper, but a bang," to transpose T.S. Eliot – and though the world at large may not end, a lot of sub-worlds will, and like the collapsing nova of a great star, the nuclear seeds of the next succeeding world will be blown out in all directions, bearing new life to those that fall on fertile ground. This is the promised "shootout in the sky" we've been talking about – see our helpful tips to make the best of it. You'll be glad when it's over, but you may also be glad it happened.
As with all big sky conjunctions, the first is the most startling and unsettling, especially compounded by destabilizing eclipses, but Jupiter and Uranus will continue to run in conjunction for the rest of the year, mostly in less alarming Pisces, so there's lots to be gained once you get the rhythm of innovation. And, after August, Saturn races out of the picture and even the Pluto square becomes wide and out-of-sign, pulling away a lot of earlier restrictions on the fruits available from Jupiter and Uranus being together. So, keep your head down for the moment, and when the initial blast is past, there will be some good pickings to be harvested among the debris…
May editorial: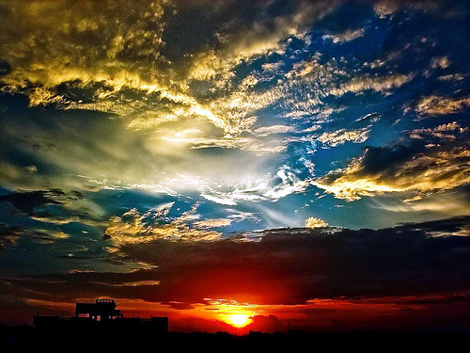 May: Mars in Leo burns below as splash sky presages explosion of fire to come.
April proved to be the turning point of a slow winter/spring we all expected, as Mars began forward motion again, heading to end its agonizing delay of nearly eight months in Leo. The skies describe a blossomed-out splash chart all month, with planets scattered all over the Zodiac, allowing and encouraging any and all possibilities, so hurry to make things happen by you before they start happening to you. Finally-forward Mars is the only fire in the sky, so it is the key to this month's action, inspiration, and enthusiasm.
But Mars simply presages the explosion of fire igniting at month's end, as first revolutionary Uranus, then whirlwind Jupiter, both blow into Aries together for the first time since June 1927. As harbinger of this event, Mars burns through Leo all month, fueling our multiple preparations before the storm brewing in the sky opens up, as we position ourselves to mount the fiery steed of change when it lights upon the earth.
This makes May the gateway to the approaching sky battle we've been describing – the final cardinal T-square of Jupiter, Saturn, Uranus, and Pluto, to be turned into a grand cross each month by the Moon and into a monster cross incorporating Venus and Mars August 6. Soon to finally exit Virgo, Saturn spins on its heel near May's end to meet the engagement, as Neptune turns away on the final day of the month – the period of hoping and dreaming is over, and the time for action has arrived…your moves this month will position you for the moment of truth and determine your spot upon which to engage this summer's tsunami, the sea change begun in fall 2008, finally come ashore…
April editorial: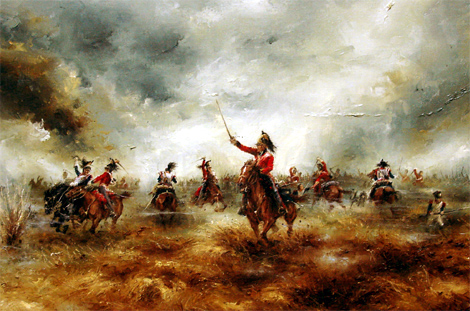 detail from: Gunsmoke and Rye at Waterloo by David Cartwright
Anyone looking for the final foreshocks of the current shootout in the sky last month had no further to look than the chart of the signing of the health care bill, a perfect angular grand cross of Sun/Uranus opp. Saturn square Moon rising opp. Pluto. Maybe not a Waterloo (and certainly not Obama's), but a watershed, and that's for sure. Starting at that moment, the final turnaround began, breaking open the late March and April skies into a bombshell splash chart, kicking out the jams on all fronts. The rest of the spring/summer sees reverberating waves crashing about until their final reunion on August 6-7, with another grand cardinal cross to beat the band, a tangle of Uranus and Jupiter opp. Saturn, Mars, and Venus, square Pluto opp. Moon…the last of the Saturn-Uranus opposition series that began on election day 2008.
It's been quite a ride, and still underway, with the real recovery period not scheduled to commence until after, as we predicted long ago, Saturn is finally back inside the bowl of the outer planets. Want to see the sky drama unfold before your eyes? Download our 2010 animated sky video (14 meg – on a PC, right-click and download, choosing "save target as"), so you can keep and replay it faster on your video player, stop and go, like a video ephemeris.
Meanwhile, April itself is just the setup, not the final lockup. It's the wide-open field with plenty of running room, a full gallop in any direction into a final fray that, whichever choice you make, is just a part of the bigger picture reflected across the entire landscape – personal, political, economical, and even spiritual. Saturn backs off for its last hit on Virgo, and Jupiter is still roiling up the inner world of Pisces before briefly breaking into the summer Aries-Libra fray. It's a month of skirmishing and regrouping, centering what's inside to prepare for the final outside engagements defining the evolving picture of the teens of this new century…
Does that mean a literal "Waterloo" event ahead in August? Maybe – but maybe not. Maybe the change has already been wrought and its aftermath is even now arising around us. Lord Wellington often claimed, "The Battle of Waterloo was won on the playing fields of Eton." Maybe that green grass is already sprouting, Pluto-like, at our feet…

March editorial: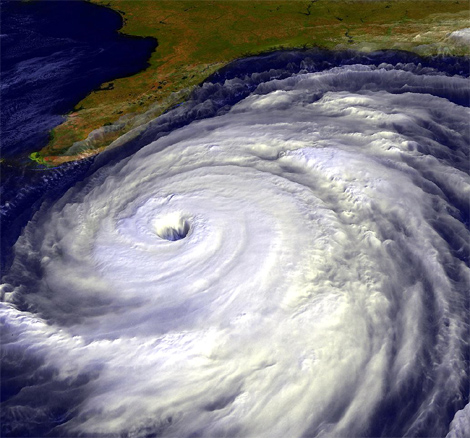 Things finally start moving topsides this March, as a weak and locked-up fire-shy see-saw sky of retro Mars and Saturn set against the world gradually transforms into a splash pattern with planets shifting position all over the place. The recovery phase from late December's wreck is just about finished as Mars gets moving again back through Leo and the inner planets catch fire as they pass the equinox.
It's not just a jumbled free-for-all, however, but a gathering storm headed into tight focus as Jupiter speeds to its destined rendezvous with Uranus entering Aries, beginning the final clash with retro Saturn, intersected by wrecking-ball Pluto smack in between, like multiple armies feeding into the siege of Gondor. That swirling sky may seem randomly blustery and gusty in true March fashion, but it marks the edge of a tightly-formed constellation of great strength, and Jupiter riding to the rescue finally gives the long-locked-up celestial forces a positive push over the edge as they make landfall on all of our lives, from the outer, global picture to the inner, personal watershed.
So don't take those seemingly desultory, shifting breezes too lightly – they're about to gather into a gale that can speed you to your destination or blow out your sails, depending on how you position yourself this month and next. Once the onset has begun, there will be no more time for trimming ship, so set your canvas carefully, then put a double watch on the helm to see you through the spring and summer's revolving cyclone.
NEW: To see this month's (or the whole year's) skies develop, don't miss our new animated sky video feature, just added to our monthly astro calendar section to the right...use your media player's play/pause buttons to use them as video ephemerides...see the sky in action!

February editorial: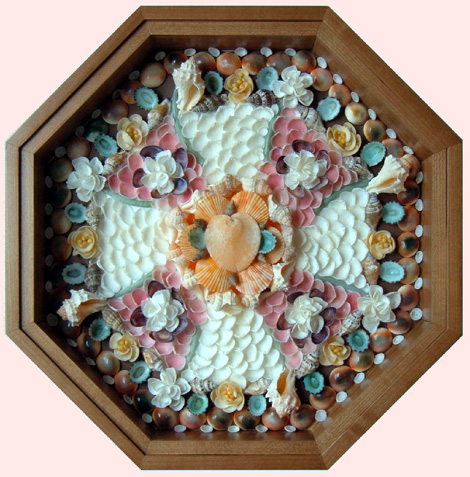 After a disjointed, eclipse-ridden January picking up the pieces from the wreck of Mars retro, this February actually revolves around Valentine's Day. On that day's new Moon, the Sun, Moon, and Venus all combine with Jupiter newly in Pisces, now ruled by (but departing from) Neptune, a sweet and mystic combination of hope and love that we haven't seen in some time. It's more tender, devotional love than hot passion, as there's no fire in the sky except for Mars in Leo who is still stumbling backward and not up to his usual eagerness and enthusiasm.
Yet, it marks the seeds of new forward motion that will come in the spring, as Jupiter races toward his appointment with Uranus and the final summer shootout with Saturn.It's both sweet and sour, as the sky remains in a see-saw shape, with Mars and Saturn on one side, and everything else on the other, swinging moods from hopeful change to demanding reality, to forge a blend that will be the actual outcome for each and all, all too soon. It's a time to turn inward to discover what outwardly lies ahead, to dream the dream from above that is necessary for the dream to come true down below.
Like a sweet sailor's Valentine (pictured above), in sorting the small mysteries of the sea of life an outline emerges echoing within and without, shaped by the shell-like visions of the heart…

January editorial: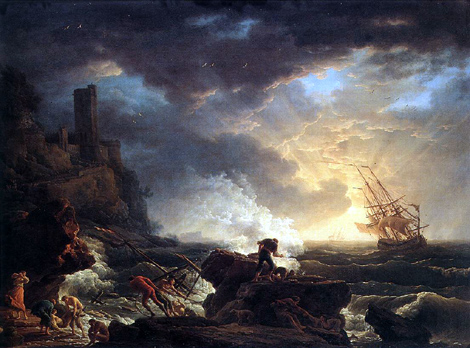 After a rushed, Mars-led December, mostly with no planets retrograde at all, Mars has turned around along with Mercury, with a lunar eclipse finishing off the year in its predicted tangle. Did the fall's haste actually accomplish something? It may be hard to tell for a while, as we look around and pick up the pieces that will be washing ashore all month. A second (solar) eclipse in Capricorn (1/15), Saturn going retro (1/13), Mercury turning direct (1/15), and Jupiter rocketing into Pisces (1/17) all make the middle of the month the most active and unpredictable. The full Moon on 1/30 on top of the Venus-Mars opposition gives the kick at the end, the antithesis of the hopeful and passionate conjunction of last spring.
Something similar to what we described in "Breathing Tide" last summer is happening in winter's garb, as the galloping, locomotive sky morphs into an uncertain see-saw, with previously-potent Mars and Saturn weakened and drifting, while we all take time to inhale and pick through the wreckage. Underneath, Jupiter is the key, which will race through Pisces in under six months, headed for the final fated T-square with Saturn, Uranus, and Pluto in the summer, before backing off again. Underneath chaotic and stormy seas, celestial Leviathans in collusion are inexorably moving toward a grand collision, with only fins occasionally breaking the surface to render a clue to what is to come.
A new decade is arriving in every sense of the word, and after this third millennium's opening set of 'teens, America itself will have finally left its 'teens behind, as will many of the rest of us, literally and metaphorically. It will be something to look back upon, indeed…
Older News Articles, newest first, oldest at bottom (some links may have expired...)

:


Why Your Astrologer Hates You (Houston Press) – Eight beefs astrologers have with clients…you may recognize them…!
Orrery In The Desert (HiDesertStar) – A human-scale orrery is being built near Joshua Tree National Park, where you can walk the orbits of the planets…
Sun-Sign Shades (sunsignshades.com) – Now it's makeup, combined with astrology, and even has its own app…
Sports Signs (realclearsports) – Scoffin' turns to boffin as journalist notices withdrawn Cancers do well at golf and Geminis tend to dominate both sides of the tennis court…
Aspects And Transits (PC World) – New program isolates transits from the rest of astrology, a la Richard Tarnas, in order to seem, well, above it all…
Such A Night (NASA) – August 12 will bring not only a spectacular conjunction but meteors as well…
Bizarre Acts (Sunday Times) – That's what a good astrologer can get out of a politician in Sri Lanka…
Astrology Plus (Milford Daily News) – Like in any other business, you have to pay your taxes, be up to code…
Saturn's Heartbeat (MSNBC) – The pulse of the planet of limitations has been uncovered, yet still remains a mystery, along with much else…
Mercury's Mysteries (Scientific American) – The secrets of the messenger planet are being peeled back like an onion…
Sky Heritage (Economic Times) – The great planetary observatory of ancient India at Jaipur is now a World Heritage Site…
"Cosmo Theorist" Speaks (International Reporter) – This Vedic says solar tsunami is marginal, because Sun is safely in Cancer…unless, of course, it's really in Leo…but we do love his nickname…
Archaeoastronomy On Tap (Astronomical Heritage) – A huge study on the origins and history of humanity's primal links with the sky is available for all, a must-read download, 45 meg PDF…
Here Comes The Sun! (CfA Smithsonian) – The Sun is waking up, and has just sent a blast our way…
Travelscopes (WW2) – You would think telling you where to go would be a travel astrology site's first service – like, for solar returns – but this one does everything but…or, just do it by Sun sign, which we did years ago…
Sports Stars (Inside Bay Area) – Sports astrologer Andrea Mallis is back in the news…
Digital Palms (ExpressBuzz) – The classic Indian astrological palm leaves are at last being digitized for posterity, and general access...
Catastrophe Alert (IBTimes) – A lot of astrology for a business publication…all about the grand cross, and other shapes as well, and its implications…
War Is Over, Or Is It? (Sunday Leader) – The new Sri Lankan government has launched a new war – on astrologers…
Plant Tea, or Die… (ShanLand) -- …says junta guided by astrological spells to quell possible uprising in Burma…
Corrupt Colonel Turns To God… (Mid-Day) -- … and to an astrology site to get him out of Army kickback scandal…
Mahurat C-Section (Times of India) – Prepick your baby's horoscope, then go under the knife…but watch for complications…
2013 Dangerous (Punjab Newsline) – The world won't end in 2012, says scientist, but 2013 will be perilous, indeed…
Time Circles (The Paranormalist) – Stone circles don't just track the stars, they swallow time…
Spacequakes (NASA) – Brace yourself for this astral phenomenon…
The Spiritual Supermarket (DNA India) – In a country known for its spirituality, a new generation is getting lost trying to find it…
Neptune's Black Eye (MSNBC) – Looks like the mystic planet got smacked by a comet a while back…
Cardinal Climax (MarketWatch) – Arch Crawford says "all Hell will break loose" in the markets as the cardinal cross comes together…of course, there is another kind of climax…
Planet X or Dark Star? (Fortean Times) – The recurrent question, is something big lurking nearby? Yet another look…
Stonehenge Twin (AOL) – It takes a lot of henges to keep track of the stars…
Nemesis No More (MSNBC) – The oft-proposed destroying star may not exist at all…
Neptunial Water (Softpedia) – Coming to a lab near you, a little drop of Neptune…
Sparrowmancy (FocusTaiwan) – Why use a parrot to pick out cards, when a sparrow will do?…a Chinese variation on an Indian favorite…
Baby Killer (Times of India) – She tried to pin it on a mysterious astrologer, but the truth came out…
Superstition (My Bangalore) – It's not the way, but awfully amusing…here's some to mull over: look out for Rahu and Ketu, but keep the baby out of the hot oil…
Dates To Remember (MensHealth) – A humorous, but insightful, look at dates you'd better know if you want to date…
The Man Behind The Bird (AsiaOne) – The astrologer behind the parrot who was bested by the octopus. Well, we're bird-lovers, even if the astrology is sometimes a stretch…more advising animals here…
Hijacked (YourTango) – Help! Astrology destroyed our otherwise happy relationship...
Planets On Board (Gambit) – The head of the World Chess Federation is deeply into astrology, has a minor planet named after him, among other oddities…
Parrot Predictions (InfoCuts) – Paul the Octopus isn't the only animal weighing in on the World Cup, with a finals prognostication favoring Spain. Mani the Parrot begs to differ, choosing the Netherlands…a chimp, a hog, and another octopus agree…[to no particular avail, as Spain wins]..
Mysterious Moon (Popular Mechanics) – We may have walked on her, but she still hides her biggest secrets…
Zombie Comets (New Scientist) – They explain Zodiacal Light…
Lasting Caste
(Deccan Herald) – Is the upsurge in the likes of astrology on the Subcontinent a reflection of a backslide to nonrationalist precolonial thinking?…
When The Stars Go Crazy (Deccan Chronicle) – Maybe here's an example…
Fake Astrologers (ShutterVoice) – Malaysians are being duped by rash of phony practitioners…
Tyranny Unmasked (Radio Australia) – New book explores story of Burma's dictators and their addiction to astrology, among other things…
Dam Busting (The National) – An astrologer is lead role in new disaster film about dams bursting and all hell breaking loose…
Khona (Daily Star) – Female astrologer is the star in this new, but tradition-inspired play…
Sacred Science (Chronogram) – Egyptologist John Anthony West opines on the planetary meanings as evolved by the early Egyptians…
Plato Code (Manchester Univ.) – A researcher has discovered a key to early science, music, and the planets in Plato…
Ice Age Shift (PlanetSave) – Our shifting poles do more than mark the astrological ages, like the Age of Aquarius, they mark the ice ages. More research…
Moonlit (Mediabistro) – Astrologer's son and partner use astro-algorithms to chart couple compatibility all the way to the bank…
"Astrology Involved" (Deccan Herald) – It would appear astrology-prone French coach Domenech has not got his team sufficiently in sync with the stars over this World Cup…a bad ending...
Probe Jupiter Mystery (Hubble) – Missing belt and sudden blast on Jupiter is being investigated…last time (when the two spots collided) much happened down here, so could be important…
Ancient Oceans (U of Colorado) – On Mars. The original study…plus ice spirals explained…
Shadowmancy (Indian Express) – Here's a new form (to us) of divination which, and astrology spinoff that, not surprisingly, has been around for centuries…
Fear…(Mumbai Mirror) – …that's what's driving devotees to this deity on a rare astrological opportunity…
A Visa…(Hindustan Times) -- …is, on the other hand, what devotees to Hanuman the Monkey King will get, says noted astrologer…
An Earthquake…(Bangkok Post) – Current planetary alignment is spreading angst over another possible quake and tsunami…
Stocks Rock Celestial (Gulf News) – Financial astrology, and astrology in general, is big business in India like nowhere else…
Begs For Release (AP) – Man who barely missed beheading in Saudi Arabia for Lebanese TV prediction show may eventually make it home…
More Mangliks (Market PR) – A badly-placed Mars makes you unfit for marriage, and 45% of the populace has it. Just about matches the divorce statistics…
Headed for Hollywood (DNA India) – American astrologer-musician collaborates on a musical rewrite of the classic Hindu epic the Mahabharata, and it's destined for the silver screen…
Outlanders (Nova) – Comets may be visitors from other worlds, as astrologers originally thought, not from our own Oort Cloud as recent astronomy theorized…
Jupiter's Black Eye (Hubble) – Not only did the daddy planet lose a belt on the way to meet Uranus, it got smacked by an asteroid, with a hit as big as the Pacific Ocean…
Stormy Weather (NASA) – As the Sun gets back into high dudgeon after deceptive quiet, space experts are keeping a wary eye out for the damage that may ensue…
Can't Find Uranus? (Christian Science Monitor) – It doesn't take much to see Uranus…a sharp naked eye or a pair of binocs. Galileo could have spotted it easily, if he'd known where to look… Here's how you can see it with Jupiter's help…
Gateway Gig (NDTV) – Astrology as stepping stone to greater things – like narcotics and car theft? When the fortunetelling business got slack, this former chicken farmer moved on to the hard stuff…
Star Togs (Real Bollywood) – Astrological designer clothing does not come cheap…
Agora Debuts (NY Times) – The Gray Lady reviews the lady astrologer from ancient Alexandria, played by Rachel Weisz in film's New York opening…"sad, but also chilling…" Washington Post likes it, too...
Crazy Astrologer (Washington Post) – Also in the arts, also in the Big Apple, an opera with an astrologer debuts at Avery Fisher Hall…
AstroCamp (The Hindu) – Not a summer retreat for astrologers, but an affiliate scheme to pull cash from the astroblogging community…
Moon-Mars Crash (MidDay) – Not the stock market crash, a lethal aerial disaster, blamed on the stars…
Ruined Marriages
(
Telegraph India
) – Good marriage aspects and good weather aspects apparently aren't the same
…
a cyclone has washed out
the best of the marriage season, at great cost to all…
Mix and Match (San Francisco Station) – The local press notices another practitioner…slow news day...
Planetary Dissonance (The SunBreak) – In this neo-Zoroastrian composer's model, the planets harmonize (sort of) in tritones…
Doomsayer On Trial (Novinite) – Bulgarian astrologer who caused panic is on trial in Sofia…
Police Protection (Deccan Chronicle) – This starcaster is officially guarded, maybe because of the officials he serves…
When Astrology Lost To Archery (KuenseOnline) – Maybe it's the arrow of time…
No One Expects… (Catholic Review) -- …the Spanish Inquisition, to quote Monty Python…astrologers most among them, once they got the gist of it…
Wedding Rush (BBC) – As good aspects end, couples crowd the altar…
Losing A Stripe (MSNBC) – Jupiter appears to be stripping down for its historic encounter with Uranus, a mystery to NASA…maybe it's tidal…
Unnatural Conjunction (NASA) – When the Moon conjoins Venus this weekend, there will be two other bright objects involved…
Starting Point (DNA India) – How Subcontinent superstarcaster Bejan Daruwalla got his first gig…
Sun Same Size (IFA) – Despite humongous storms, flairs, spots, and eruptions, the reliable ruler of Leo hasn't changed size a bit… for the moment
Old-Time Horoscope (Star Tribune) – A sample of a starcaster column from May 10, 1916, great stuff…got the warlike part right, the gigantic naval Battle of Jutland was just around the corner…
Explaining Astrology (SoFeminine) – A long, thoughtful pop journalistic essay from the UK doing just that…
Fancy Names (Telegraph India) – Astrologers accusing other astrologers of nominative deception…of course, if you're not local, the point may be lost…
Jobs, Jobs, Jobs (Rediff) – It's not just employers' HR departments who are eying the stars, so are the applicants…
Vedic Live (Financial Express) – Indian astro-leader Ganeshaspeaks has a new competitor in the phone consulting business, mPandit.com. Strangely, it bears the name of Ganesha's own CEO, Hemang Pandit, who may or may not be amused…
Cricket Capers (DNA India) – Cricket champion team's owner team will win, but only if he doesn't watch the game, says his astrologer…
He's Back, Almost… (Nation MultiMedia) – That would be Thailand's former PM Thaksin, whom astrologers predicted would return…
Who Will Win? (The Telegraph) – In UK's highly-Americanized, tight election, journalists are consulting the stars, and everything else, to get ahead of the news…
Legalizing It (The Sun) – While Chicago considers banning astrology, Macon has OK'd it…
The Secrets of the Universe… (DNA India) -- …will be revealed soon, with a little help from the Hadron Collider, among other things, says superstarcaster Bejan Daruwalla…
Mustn't Be Banned (DNA India) – Move to stifle astrology in, of all places, India heats up…
Hired By The Stars (Indian Express) – Human resources departments may be asking your birth data to decide if you're fit for the job…
Chicago To Ban Astrology? (Chicago Current) – Another well-meaning proposal throws everybody, legit or not, into the same pot…
Snakes (One India) – We've heard of parrot astrologers, but snakes?...kissing King Cobras, even…
It's Written In The Stars (WND) – The Second Coming, that is…except it's somehow astronomical, not astrological…a matter of judgment (day), we reckon…
Starry-Eyed Stocks (Wall St. Journal) – What, Indians use astrology in the stock market? This journalist must be a newbie…
Soothsayers Denied (3news New Zealand) – The war against the wackos in Kiwiland has legit astrologers caught in the middle…
Twitter Trend (Mashable) – Astrology is number three on Twitter's most popular subject list…
One Piece Of Advice (Sunday Times) – For the skilled astrologer, choice of words is everything…as this lovely tale demonstrates…
Mystery Molasses (NASA) – As Pluto enters its northern summer, murky markings have appeared. Could the planet of Death harbor proto-life?...
Zodiacal Light (SETI) – The mystery glow of the Zodiac has been finally accounted for…more w/pix here…
Astrologer On Trial… (Novinite) -- … for misleading predictions that caused panic evacuation in Bulgaria…beats beheading (see Saudi story below)…
Saturn Mystery Explained (PhysOrg) – The strange, massive hexagon encircling Saturn's north pole turns out to be an artifact of fluid dynamics…with video example…
Retrograde Everything (ESO) – What if all the planets were permanently retrograde?…turns out, this could be the case elsewhere, setting planetary formation theory on its ear…
Russell Gets Richer (Transworld News) – British boffin inks big deal to make stardcaster more profitable…he's even doing cooking shows…
Planetary Music (NPR) – Listen to the proportional relative tones of the planets, the music of the spheres, as they circle in this marvelous musical animation…
Stamp Signs (India Post Office) – India is issuing a set of astrological stamps…pictures to come on release…
File In June (Flash News) – Astrologer Shelley Ackerman thinks you should delay filing your taxes, because of April 15th's dire sky, until June…when there will be, actually, an even worse grand cross overhead...
Terrible Tiger (Phnom Pen Post) – The Year of the Tiger looks just awful, at least as seen from Cambodia…
Venus Is Alive (Space.com) – The planet of love may be hot inside as well as on the surface, with active volcanoes still spewing lava, more Earth-like than ever…
Dwarfed Again (Science Alert) – New definition of "dwarf planet" may let dozens more into the solar systems pen, crowding Pluto even more…
Why Vulcan Vanished (Post-Gazette) – The mysterious intra-Mercurial planet, long-sought by astronomers and astrologers alike, was probably an artifact of relativity…
Rubbish, Again (Facebook) – Astrologers defend their art against another dismissive "rubbish" attack on a BBC program, as skeptics blog back…the usual, unresolved arguments, not really addressing each other…
Manhandled (Sahil Online) – Crooked astrologer slapped silly by a group of women after attempted scam…sounds like he deserved it…
Lucky Planet (DNA India) – Our man Bejan (Subcontinental superstargazer) likes Jupiter in Pisces…
Hard To Get (AP) – California biodynamic wines, grown and produced according to lunar phases, among other things, are especially delicious, but there's just not enough to go around…
The Red Sun (Thunderbolts) – Were the ancient Egyptians seeing a very different Sun than we are seeing today?...
Orbital Weather Cycle (Examiner) – If there's a change in the weather, it's because there's ever a change in us…
Was Quaoar an Asteroid? (New Scientist) – Among the newer "planets" in the Kuiper Belt, this piece of rock may have wandered from a bit closer by…
Bend It Like Beckham (Daily Mail) – Victoria "Posh" Beckham, that is…and bending means an astrology-yoga combo that promises, promises…Jennifer Aniston does it, too…
Comet Catastrophe (RedOrbit) – Finally, hard evidence of a massive comet strike a little less than 13,000 years ago. Claims of this one and its traumatic historical effect (extinctions, legends of fire from the sky) have been bubbling under literally for decades…complete paper here...
Behead Fortuneteller (Pattya Daily News) – Saudi Arabia will behead popular Lebanese TV forecaster for over-the-air "sorcery," after luring him in on pilgrimage. This nation is supposedly our ally…
Lost Bird (ExpressBuzz) – Local violence leaves an aging "parrot astrologer" searching for his life companion…
Feelie App (New Zealand Herald) – A new biometric phone application uses your natal chart, among other things, to tell your daily fortune…
Dodgy Doings (3News) – A suspicious set of starcasters have set up shop in Auckland…
Political Challenge (This Is Leicestershire) – Anti-astrology candidate will run for MP election in Britain, after expenses scandal…
Planetary Oddities (AOL) – Strange doings in our celestial neighborhood this year…
Nab Rapist (Deccan Herald) – Astrologers can be criminals, just like anybody else – and more often in a culture with more astrologers…
Hungry Planet (New Scientist) – Neptune may have eaten an earth-size planet and stolen its moon, Triton…or, it might have been Uranus…
Bangalore Bonanza (Mid-Day) – Astrologers make hay while the stars shine as politicos flock for election-time readings…
Mystery Manuscript (Fortean Times) – Zodiac helps date ancient document discovered by bookseller in 1912…
Dark Asteroids (NASA) – What you don't see definitely can hurt you…
Star Wars Behind The Scenes (Pattaya Daily News) – Political forces in Thailand have astrologers working for both sides, like the mysterious "E.T.", similar to the English Civil War…
Burning Socks (Christian Science Monitor) – We've heard of some strange rituals associated with the spring equinox, but this one is a foot ahead…
Hurricane Neptune (Technology Review) – Like Saturn, Neptune is a windy place indeed…see pix and videos...
Moonwater (NASA) – The Moon is always associated with water, ruling the cardinal water sign Cancer. Hardly the dry, barren place the astronauts walked on. Shouldn't it be chock full of water? Well, maybe it is…
Software Test (Trak.in) – It takes an Indian news source to report on an American astrologer's program to validate astrological concepts – it's about harmonics, and by our old friend David Cochrane…
Death Star Collision (Scientific American) – A rogue star has been spotted headed our way on direct collision course. It won't hit soon, but it radically shortens our time left here in this solar system…
Blood Protest (The Guardian) – Bizarre blood-spilling event is sympathetic magic, say Thai astrologers…
Core Relationship (New Scientist) – Earth's physical entanglement with Venus (it always turns the same face toward us) may be a core attraction issue…
People Clusters (The Advertiser) – Columnist notes that her most special people are all born around the same time of year…could it be astrology?...
Planetary Empaths (Synchonicity) – Not only animals, but people can sense oncoming earthquakes because of… planetary sensitivity?...
Astro-Scam (Business Week) – The FBI's lastest online fraud reports contain an astrological scam worthy of avoiding…
Entertaining Einstein (Bangalore Mirror) -- On the 131st birthday of the great scientist, jyotish has something interesting to say about him, and vice versa...
Wall Planets (NY Times) – Artist HD animation "Revolution, 2010" on hard disc features planets, outrageous sky…
Current Of Fire (NASA) – The raging torrent of plasma circulating inside the Sun has recently been racing at record speeds, scientists have discovered…
They Believe (Shan Herald) – Burmese soldiers do. There are two astrologers for every 40 soldiers in the army there…but it's not going to save them…
Nemesis (Space.com) – Is there a lurking monster in our planetary neighborhood? More thoughts on a old celestial bugbear…
Swamis and Scandals (Pakistan News) – There are more dangers lurking in Pakistan than just the Taliban…could be your astrologer is out to get you…fraud, rape, murder, and more fill the police blotter…
Mother Looks Good (DNA India) – Mother India, that is. According to GaneshaSpeaks' primo starcaster Bejan Daruwalla, Saturn entering Libra bodes well…
Hate Mail (The Times) – From children, to museums who don't include Pluto. Ironically, kids are this spunky planet of death's biggest fans…
Biological Clocks (Sign On San Diego) – Our intimate links with planet's multiple rhythms has become a major field of study…
Go Ask Alice (Examiner) – Something about astrological pinball effects and the new movie version of Alice In Wonderland…well, it's from the Examiner, America's online answer to Pravda…
Astrologer Arrested (The Nation) – For making politically troublesome predictions. He's a close crony of an army supporter of ousted Thai PM Thaksin…
Eye on the Tiger (The Hindu) – In the Year of the Tiger, the tiger gets a break because of, in one villager's words, "the aligning of good planets resulting in excellent people coming together"…
Center of the Universe (News One) – That would be the Earth, as it is still viewed by astrologers. And it's what Galileo should have thought, based on his early research, new contemporary documents reveal…
Name That Tune (Indian Weekender) – In the cosmic symphony, the good astrologer picks out the relevant tunes…nice piece on Hindu approach to astrology and magnetism, Tesla, more…
Shields Up (Scientific American) – Speaking of magnetism, earlier-than-thought-magnetic field enabled life to develop here to begin with, and likely elsewhere…
Warming To The Stars (BNET) – Goofy climate change bill from South Dakota legislators is giving astrology a bad name…the fault lies not in the stars, but in these underlings…
Lurking 'Roids (New Scientist) – Newly-spotted, dangerous near-Earth asteroids are creeping about the neighborhood in darkened cloaks…
Slippery Seer (NY Times) -- Psychic is nailed by SEC for Ponzi-scheme fraud...investors might better stick to astrology...
Traders Turn To Stars (CityAM) – The financial crisis wasn't about CDSs and sub-prime, but Saturn and Pluto…
Most Wanted Man (Daily Mirror) – That's because his predictions have been so accurate…
Better Calendar (Daily Pioneer) – Indian date-reckoning is more in tune with nature than Western, or so say Indians…
Under Fire (DNA India) – Astrologer Bejan Daruwalla, headliner for India's #1 star site GaneshaSpeaks, is target of government suit to ban astrology…
A Fortunate Man (Financial Express) – That would be Hemang Pandit, CEO of India's GaneshaSpeaks, whose aggregating "astrology mall" approach and live cellphone services take 50% of India's astrology market…
Heaven Luck (ABC) – That's just one of the several kinds of luck that favored lottery winner…
Looming Sham (ISN) – Burma's star-happy junta is picking a good date for election charade…
Welcome Criticism (Economic Times) – Warnings against stock market astrolgers are praised by…stock market astrologers…
Pluto Times Twenty (Listicles) – Twenty cute, funny, sad, and poignant portrayals of the punky planet…or see a PBS Nova special on it's eightieth anniversary…
Failed Fortune Killer (AOL News) – Psychic's love spell didn't pan out, so client traveled 2600 miles to murder her…are astrologers next?…
Kidnapped Starcaster (Express Buzz) – Why murder, when you can just snatch an astrologer for ransom? This one just got rescued…
Quacks In Slacks (New Straits Times) – Stock market regulators warn of bad financial advice from ill-starred starcasters, however good they look…
Close Call (The National) – You don't want your kid born on an eclipse…a near miss, with doctor's help…
Solar Rhythms (Science Daily) – The Sun has its own interior cycles – it undulates and rings like a bell…
Vote For Pluto!
(EarthSky) – Kids who read Highlights magazine will get to vote on whether Pluto should be a planet…sounds like a sure thing to us…
cast your vote here…
after you
see a video view…
Like A Good Doctor (SiliconIndia) – That's what going to a good astrologer is like…
Online Marriage (AFP) – The Subcontinent has problems here, with mangliks getting the short end of the stick, as usual…
Saturn All Aglow (Space.com) – Polar auroras on the planet seen for the first time…
Pluto A Planet (Oregon Live) – Or so declares Gresham, Oregon, population 100,000, as Pluto's discovery turns eighty…
Russian Revolutions (Javno) – Major starcaster predicts major changes in the former Soviet Union this year…
Valentine Tiger (Toronto Record) – The new Moon ushering in the Year of the Tiger falls on Valentine's Day. Fierce love, or something else? A volatile year or hope for tigers…
Oceans Of Diamonds (DNA India) – That's what we may find on the outer planets Uranus and Neptune, with diamond icebergs, according to California's Lawrence Livermore National Laboratories…

Of Tree and Sky (Time) – Star positions etched in ancient California arborglyphs are a mystery…
We Got Rhythm (The Biggest Study) – …planetary rhythm…worthwhile recollections of Frank Brown, one of astrology's first and best researchers…
Russell Grant's Astrology (Aussie-Nintendo) – A close look at the video game bearing the Brit boffin's moniker…
Cosmo Theorist (International Reporter) – That sounds like a novel name for an astrologer, commenting on politics in general…
Star Power (NY Observer) – Feature piece on astrologer Susan Miller…
Suckers For The Stars (Telegraph) – Italians are spending a fortune on fortunetellers…who are making a fortune in the process…
In The Language (Expressbuzz) – From Jesus to astrology, the Tamil vocabulary has root words for more than you would think, a hidden historical tale…
Back On The Boil (BBC) – After an unusually long quiet period, the Sun is back to roiling up a storm, spitting out spots and flares that will disrupt communications as another peak approaches…
Summer On Pluto (Hubble) – While Saturn enters spring, Pluto is approaching its summer solstice…they're in square by aspect, and by internal seasons, adding to their current dynamic...
When Asteroids Collide…(NASA) -- ...and they just did, there's not much left but bits and pieces, as Hubble telescope has just discovered…here's a cool picture…
Drunken Duet (Scena) – Between a king and his astrologer, in Chabrier's L'Etoile…
America's Stonehenge (Concord Monitor) – For those who didn't know there was one…brings history and astrology together…
Definitions, Planetary (Discovery) – Our definitions of "planet" may not even apply in other systems, where earth's twin may be found this year…Horizon's Pluto flyby will rekindle dispute…
Student Counselors (Hindustan Times) – Astrologers are helping young people explore career aptitudes…
Close Encounter (NASA) – Mars will be as close and bright as it gets, in opposition Sun and Venus, right at the full Moon (especially large and close, at perigee a "supermoon"), this month's outgoing kicker…look up and wonder…
Pluto's Tiny Sister (Discovery) – Smallest of Kuiper Belt objects is only a third of a mile in diameter…
Heir By The Stars (The Guardian) – Astrology is being used to prepare North Korean populace to accept and revere the replacement for ailing Kim Jong-il…
Stargazers Sway Elections
(AFP) – Not surprising, considering where they are being held…business as usual, actually…
Potter's World (Birmingham Black and White) – The Alabama Museum of Health Sciences new exhibition features the astrological philosophies of Renaissance medicine, using Harry Potter as its theme…
Influencing Asteroids (Scientific American) – What influence asteroids have on Earth may be in question, but not the other way around…
Haydn at the Hayden (NY Times) – Haydn comic opera featuring a wily astrologer opens at New York City's high-tech planetarium…
Swamis Talk Science (DNA India) – A gathering of Hindu gurus are looking for reconciliation, starting with a shift to the tropical year…
Doomsday Doubt (Pravda) – Russian astrologers pour cold water on Mayan calendar apocalypse…maybe a gradual change of consciousness instead…Indian starcaster agrees....
Off-The-Mark Remarks (Desicritics) – A scientist, an astrologer, and a rationalist were put into the same room to discuss Haiti and the eclipse…the opening for a good joke…
Tribute To Saturn (Cornell) – Give this new DVD a listen…sound like Saturn to you?…
Ribbon At The Edge (NASA) – The edge of our solar system, it twines around us like a great celestial snake. Its mystery, though not its effects, may have been solved…
Software Troubles (DNA India) – UK MP under fire for buying astrological software…755 pounds sterling of public money…
Astrologers Knew (Canada.com) – Cities have lifespans, and evolve accordingly, something astrologers already knew…
Pluto's Anniversary
(Cape Cod Online) – It's been 80 years since Pluto became part of our consciousness…a peaceful planet minding its own business?…ironic text here…
Farther From The Sun (Softpedia) – We're drifting away from our star, albeit slowly, and it could be dark matter that's forcing itself between us…
Connect The Dots (mi2g) – Earth, Moon, Mars and Sun together may account for major weather evolution…
More From Apophis (PR Web) – Now UFO contactees are getting in on the threatening asteroid story…
Trees On Mars (Daily Mail) – Well, it looks a lot like trees, anyway…from NASA…
Longest Eclipse (Mizzima) – This week's solar eclipse is the longest of the century, and goes right over Burma, land of star-driven junta that could use a little change…
Tapestry Of Faith And Science (Financial Times) – Here's a must-see exhibit next time you're in New York City, at the Rubin Museum of Art…
Mystery Asteroid Flyby (Discovery) – Something is dogging our path in the sky, asteroid, man-made, or something else?...great NASA java animation here…
Sweet Spots (Time) – The reason we and other Earth-like planets didn't get gobbled up early is because they found Lagrange-like spots of equilibrium in the early chaos…
Decade of Doom (Frontier Post) – That's what this political columnist from Peshawar and Quetta sees, linked to the planets…
Star Study (Times of India) – Doctors, lawyers, bankers, and other professionals are crowding to sign up for courses in astrology…
Constellation Cufflinks (Jessica Cushman) – Just out: jewelled constellations for your cuffs, a sparkling cut above the usual zodiac trinkets, very classy for $85…plus, from another accessory source, chains of moons and stars…
Crossing Over (Brooklyn Eagle) – From school crossing guard to astro-reincarnation expert…a lateral career move?…
All-Star Cast (Herald-Sun) – Brit columnist muses on how starcasters cast their stars…
Star Mitzvah (Jewish News) – Uranus and Neptune finally get their Hebrew names…
Chicken Or Egg (Market Oracle) – In business cycles, like planetary cycles, a major question is what detail of the pattern specifically triggers the change…
On The Wane (Middle East Online) – Analyst repeats just what we said long ago about superpower's inevitable decline…
Astro Bard (Mudgee Guardian) – Shakespeare was an astrologer, soldier, sailor, lawyer, spy…and a doctor…
Last Year's Future (The Nation) – How did prominent predictors' prognostications from 2009 turn out?…some, not too badly…others, well…
Younger Than We Think (Wired) – The planets are not as old as presumed, but by a million or so years, who's counting?…
Russia Steps In (Wall St. Journal) – Russia is now actively interested in saving the earth from threatening asteroid Apophis, headed for Earth all too soon…
Earth-sized Planet (Space.com) – One could be right here in our own solar system, and NASA is on its trail…
On A Blue Moon (NASA) – The "decade from hell" ends, appropriately, on a blue Moon…
Earthquake Tides (Wired) – Tidal forces roll out quakes, new research reveals…
A More Stable Oath (Express Buzz) – Politician changes swearing-in time at astrologer's advice, to enhance future government stability…
Matters Of The Heart (DNA) – They're more important than money these days, say Subcontinent starcasters…economy must be getting better over there…
Struggle For Existence (The Hindu) – Some astrologers there, however, are barely scratching out a living…
Racing Toward Russia (Times Of India) – Now on Ellesmere Island, only forty years ago the magnetic poles were on Prince of Wales Island and Commonwealth Bay, and at forty miles a year, soon Russia will capture the honor…to be sure if where you are, stick with the North Star…
Beliefs Down Under (Sydney Morning Herald) – In new survey, Australians buy into astrology more than much-ballyhooed American poll…more details here…
Pregnant Island (Fiji Times) – Mother earth and Moon goddess lies astride South Sea newly-noticed island contours…you haven't read this one…
Sealed Envelopes (DNA India) – The latest pop news "test" of astrology ploughs on…
Star In The East (Radio Iowa) – Explanations for the Star of Bethlehem have been refreshingly scarce this season, this being the only one about…except for this one…And of course, this one…
The Gemini Astrolabe (Londonist) – On display now at the Royal Observatory, Greenwich...
Astronomers Celebrate At Stonehenge (Gazette and Herald) -- …along with archaeologists, and probably a few astrological gate-crashers as well, this winter solstice…
Time Capsule (BeliefNet) – Astrologer Lynn Hayes unearths a Time magazine article that digs into our personal past, literally…the complete March 1969 original is here…
Democrats Favor Astrology (WND) – More from the recent Pew study…the right wing may favor religion, but it's the lefties who are more hands-on with the mysterious, two to one…
Planetary Music (Faster Times) – Planetary motion converts to musical intervals in translation of Kepler's Harmonices Mundi…we're big on that ourselves…
Voice of the Earth (Countercurrents) – What the Earth feels, we feel, and that may be the middle step that connects us to the planets…well, that's our take…
Spiral Over Norway (YouTube) – A mysterious spiral in the sky appeared in the dark Norway skies…an omen above the climate change conference?...speculation is rife…
Broiled, Not Burned (New Scientist) – Asteroid strike was hot, but not flaming, new evidence reveals…
Saturn's Hexagon (Popular Science) – More on the mysterious giant hexagon on Saturn's north pole, with great moving pix…
Mix and Match Metaphysics (Washington Post) – Nearly a quarter of avowed Christians believe in reincarnation and astrology, according to new American survey...
Astrological Profiling (Spartan Daily) – Girl feels misjudged by Sun-sign prejudice, the "dark side of astrology"…perhaps she'll sue…
Simple Numbers (NY Times) -- Numerologists are horning in on astrologers' territory in traditional India, because it's less complicated...
Massive Expansion (DNA India) – Ganesha Speaks plans to take over the astrological world…boss starcaster Bejan Daruwalla has his eyes on the prize, as burgeoning tele-astros rake in the cash from hungry fortune-consumers…
Wedding Halls Packed (Times Of India) – The stars are smiling, the rupees rolling in…'tis the season to get married…
Solar Tsunamis (NASA) – Monster waves have got the Sun all riled up…
Red Planet Once Blue (Daily Mail) – Mars was once covered with oceans, a blue pearl like Earth, long before the god of war...
The Handcuffed Statue (The Irrawaddy) – Statue of goddess is shackled every evening, perhaps on orders from Burmese junta leader and his astrologers to thwart the resistance…
Electric Comets (Thunderbolts) – Among other wonders, new comet data allegedly proves that "Climate change…is doubtless an aspect of the electrical connection between Earth, the Sun, and the galaxy."
Cult Monuments In Moscow (Pravda) – More from Pravda on the celestial origins of Stalinist structures…
Liquor Stocks (Money Control) – Buy some shares in booze in dips this week, or just dip in and share some, always our advice in shaky times…
Full Moon Highway (DNA) – A particular stretch of road goes dangerously mad when the full Moon hovers…
2012 Panned (New Scientist) – Well, New Scientist really hates this movie, unsurprisingly, except some of the effects are cool…
I'm A Planet, Damn It! (New Scientist) – Outer planet complains righteously to New Scientist blogger…
2012 (Vedic) (Sify) – Everybody else is putting down doomsday, why not a shot from Vedic astrology?…
The Fertility Show (The Guardian) – Anything and everything to get you pregnant, including astrological services…
At It Again (The Independent) – French soccer coach Raymond Domenich adds tarot to his regular astrological requirements for his team, annoying many including this columnist, but he continues to dominate the game…
2012 Debunked (National Geographic) – That ageless coffee-table magazine puts its two cents in on the imminent end of the world, with a TV special to match…plus another take by NASA…
Cell Phone Swami (Newswire Today) – Now you can get those individual birth chart reports as an app on your iPhone…
Soccer Signs (Bleacher Report) – Our favorite team Liverpool's main players – clever, albeit it just Sun signs…
Where Is Planet X (Discovery) – Planet-finder and Pluto-demoter Mike Brown is questioned about where the next one might be…
On-Time Delivery (Global Post) – Another, nice long piece on the ins and outs of custom C-sections for picking a child's horoscope, a rising trend on the Subcontinent and the East…
Historical Laughs
(Variety) – Popular German filmmaker spins comedy yarn based on someone being mistaken for Hitler's astrologer, by Stalin…got to see this one…
Purloined Bones (York Press) – Someone stole Brit star astrologer Jonathan Cainer's skeleton…
Stalin's Secrets (Pravda) – Did the ruthless dictator build Moscow on an astrological plan? Could be, if you believe Pravda…
From The Middle East (Tayyar) – Michel Hayek resurfaces with some space-oriented predictions, as well as political…
Sagittarians Reach For Stars (Tonight) – Yet another mini-poll, claims Sagittarius is more fame-hungry than the rest, by 2-1...
Gaia's Final Warning (NY Review of Books) – Forget the outer planets and 2012, it's our own planet that's out to get us, in revenge. After all, it's not always been so friendly…
Sneaky Sun (NASA) – We live next to a variable star, at whose whim we remain and flourish, or don't…NASA will be taking a closer look…
The Laptop Astrologer (AFP) – All it takes is a gimmick to get you on the air…
Wedding Season (Times of India) – It's that auspicious time of year again, as wedding businesses thank their lucky stars…
Asteroid Hit (Telegraph) – We didn't see it coming on October 8, when it rocked the atmosphere with a 50 kiloton blast. If it had been only a bit bigger, well…
Did Galileo Discover Neptune? (The Nation) – His notebooks may reveal that secret, of an unknown star next to Jupiter…
Ring Around Saturn (NBC) – The biggest ever, 200 times its diameter – how did we miss it?…
Another Ribbon (Thunderbolts) – The Sun, also has a mysterious electric ribbon like the one just discovered around Earth…
What's Your Tree, Baby? (What's-Your-Sign) – We missed this oldie, but it's fun, though likely based on an elaborate Celtic Astrology fabrication by none other than poet Robert Graves…
Ribbon Of Mystery (NASA) – It seems our solar system is encircled by a previously unknown celestial ribbon of force, at right angles to our galaxy…
Cosmophobia (AstroSociety) – Is the planet Nibiru really going to whack us in 2012, and other paranoid delusions dealt with…more, and there will be lots more as this all approaches…
What Do We Know? (Scientific American) – About all those Kuiper Belt planetary type thingies, not to mention a lot of other mysteries…part of a good series…
Too Close To The Sun (Russia-ic) – Venus lost its water because it got a little too intimate with the Sun…
Right Predictions? (Sunday Sun) – Did the starcasters really call the shots right this time? Seems like it, but then this is the Sun…
Happy Health Care
(Journal Gazette) – Countries with better medical attention even pay for the astrologer, reports American journalist in personal tale…
Saw Jupiter Rings (Paranormal Review) – Jupiter's now well-know ring was foreseen well before it was sighted…
Good News, Bad News (IFA) – First the good news: that menacing asteroid Apophis will probably miss us on its next pass by a scant 125 miles, according to new calculations. The bad news may be the following pass – all telescopes will be on it as it rounds the Sun…
Statistical Test (EINnews) – One that supports relationship aspects of astrology…
Astrology Of Theft (Times Of India) – It doesn't work that well, fortunately…
B.C. Henge (Vancouver Sun) – A neo-neolithic monument to rise in British Columbia, astronomically in tune with the original…
Wannabe Planets (Space.com) – The latest description of Pallas and other larger asteroids…
Full Moon Attacks (Cryptomundo) – Wild animals get wilder as the Moon grows…
Harvest Moon (Tehran Times) – The hows and whys of the year's most picturesque full Moon…(the closest on either side of the equinox by tradition, but being well past it in Aries, astrologers would call this current full the Hunter's Moon)...
Don't Panic (NBC) – Astronomer lists the endless varieties of doom that await the world in 2012 as featured in the coming movie…
Cosmic Rays (NASA) – We're being bombarded from deep space, now that protective Sun is in low gear…
Another Challenge (Times of India) – Can astrologers predict election results for a prize, again?…they accept the challenge!...
Planned Parenthood (Times of India) – Planning when to have a child, by the stars…a continuing thread in the Subcontinental press, as it's very definitely on the rise…
The None Zone (Crosscut) – Do folks in the Northwest really look at things like astrology well, differently?…
A Forest Full Of Sky (Nova News) – Parklike planting by Bay of Fundy reflects planets, seasons, ages in flight through ancient times, nicely named Falcon Henge…
Omens and Astrolabes (Culture Kiosque) – Unusual omens in book from Iran and Turkey at the Smithsonian in DC, and if you're in London, don't miss Greenwich's astrolabe exhibit…
Sky Lines in Kazakhstan (Allnewsweb) – Ancient Nazca-like figures aimed at sky discovered in Kazakhstan, far from the Peruvian originals…
Saturn In The Spring (Ciclops) – Saturns's vernal equinox is a festival of photos of the rings flat-on, and strange goings-on within them…
Big Red Book (NY Times) – Many Western astrologers' fave, Carl Jung, revealed all in this elaborate, biographical journal of dreams, drawings, cosmic explorations, now published for the first time, decades after his passing…
Navigating, By Stars? (Daily Mail) – Did prehistoric folks have an early satnav, using triangulation based on sky?…so says Tom Brooks in a new twist on the Old Straight Track, et al…
Linda C. Black Passes (AP) – Noted astrologer, long-time columnist…
Quiet Bombardment (AGU) – No spots on the Sun doesn't mean it's not zapping us just the same…
Expensive Vows (Economic Times) – Fewer astrologically auspicious days have driven marriage costs in India through the roof…
Another Spot (Scientific American) – This time on the dwarf planet Haumea, one of the recently-discover far-out (literally) planets in our solar system...
Water World (AFP) – That was Venus, before she became too hot to handle…
Comet Grabber (Discover)– That's Jupiter, who snagged a comet for a whole trip around the Sun, then spat it out…
Saturn Lightning (National Geographic) – At exactly heliocentric opposition to Uranus, and at its equinox, Saturn spews forth record lightning storms…are we feeling it?…
Seeing Spots (NASA) – Well the problem is not seeing spots, on the Sun. Will they return? What does it mean down here? NASA reflects…
Bingo! (Unluckforsome) – UK bingo TV show sorts winners by sign…
Ice Age, Interrupted (National Geographic) – Warmer arctic waters are tipping the earth…
London Lunar Clock (BBC) – UK capital will build monster celestial monument/observatory driven by moon and tides that's a new twist on the ancient, Neolithic tradition, by 2012…
All Interconnected? (Inquirer) – All-togetherness used to be seen as astrology, now it's beginning to look like simple environmental connections, speculates Philippine columnist…
Krishna Skies (Spicezee) – New documentary plots the goings-on in the heavens during the events of the Mahabharata..
Ancient Sky Machine (Computer Weekly) – A great animated assembly of how the Antikythera Device was put together, from New Scientist…